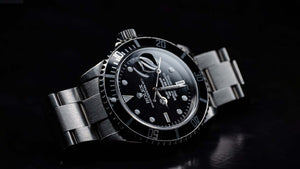 How To Sell Or Trade Your Watch
2. Speak With A Watchmaster
3. Pack & Ship Your Watch
Request Your Quote
Fill out the form below to receive your quote and sell your watch online. If you happen to have any questions, feel free to give us a call at (215) 355-3585.
★★★★★

Extremely knowledgeable, professional and accommodating with my needs. Their service is second to none.

Enrique Gomelmeier

New York, NY
★★★★★

They always stock the best watches. They always find what I'm looking for. Highly recommend!

Tamarah Lombrozo

San Diego, CA
★★★★★

Jacob is the best to deal with. Always fair and very informative. I'll buy all of my watches from them.

Dean Mavrides

New York, NY
Frequently Asked Questions
The first step is to check your paperwork. The reference number can be found on the papers, warranty card and occasionally on the case. If you don't have access to these documents, some brands include the reference number on the caseback engraving. Occasionally there will be two numbers engraved on the caseback, one will be the serial number (the unique identifiable number for your watch) and the other will be the reference number. Still not sure what your reference number is? Include as many pictures as you can, including the caseback and our team will take a look.
Once your submission is received by our team, we work on getting you an evaluation within the first 24 hours. 
The condition of your watch, any included accessories, and the current secondary market are all factors to be considered when determining the value.
There is sometimes room to negotiate based on the payment method used for any outstanding payment required or by providing additional supporting information about the watch being traded in.  Please feel free to talk to your Client Advisor to more fully understand the offer and discover if there is any room to create a better deal.
After the watch arrives and inspected, we will send your payment within 72 hours.
SELL ROLEX WATCHES ONLINE
If you want to sell your Rolex watch, we accept a range of timepieces from the Rolex collection including the Rolex Daytona, Rolex Submariner, and Rolex GMT Master II, plus all Rolex's most popular watches. The Rolex brand is highly sought after for its high-quality craftsmanship, desirability, and longevity, so if you'd like to sell your Rolex online, we want to give you the best price for it. Because of their popularity, we always like to keep a good selection of Rolex watches in stock – that means you can get top dollar when you sell your Rolex watch to us! Would you rather make a trade than sell your Rolex watch outright? We'll give you an excellent value in-store credit that you can use to get a new or used watch from our showroom.
Sell Your Luxury Watches Today!
Of course, it may not always be necessary to sell your Rolex online because of a mechanical issue or sizing problem. At AUTHENTICK, we want you to be 100% happy with your decision to sell your luxury watches, which is why our specialists are always willing to discuss alternative solutions with you. Before you sell or trade your watch, be sure to ask about our watch repair services. Our skilled technicians can perform several watch repair jobs including battery changes, hand or mechanism repairs, servicing, watch parts repair, antique and vintage watch restoration, and more. If a mechanical issue has led you to sell your luxury watches, we can help restore your luxury timepiece to its former glory.
Sell My Watch Online
Authentick helps you trade your old watches for new ones or sell them online at an incredible price. It's not just another marketplace. It's a trusted partner in helping you buy or sell luxury watches with confidence.
We help you find an offer that will make selling your luxury watch quick and easy.
Whether you are preparing for retirement or need to sell your timepiece quickly in Philadelphia, Authentick is here to help!
If you would rather trade your luxury watch, Authentick has an active community of buyers who use the site to find high-quality watches. Trade your watch for something new or different without needing to negotiate or pay extra fees.
Also, we make sure that the buyers are legitimate and verify authenticity. It means all transactions are safe and secure.
Why Trade or Sell Luxury Watches With Authentick
We are the foremost web-based marketplace for luxury watches in Philadelphia. With us, you can trade or sell your Rolex online with ease and peace of mind. Our experts will help you get the most value from your timepiece while respecting its history and condition.
Confidential: We are recognized as an authority in trading luxury watches, and we guarantee that you do not have to worry about your privacy. We want you to trade with us with ease and comfort, knowing that we will protect you.
Guaranteed Authenticity: With many years of trade experience, we ensure you receive the best value for your trade or sale.
Fast & Simple: Authentick verifies that you can trade luxury watches quickly without wasting time or money on expensive appraisers or dealers that want to get a percentage of your trade value.
Expert Advice: Trade your luxury watch with our experts to ensure we get you the best price for your timepiece. Our expert advice can save you thousands on your trade and help you find the perfect trade. When it comes to watches, we've got you covered.
It's never been easier or more convenient to sell your timepiece with Authentick. Our platform makes it easy for buyers to find what they're looking for while allowing sellers to get paid quickly without any hassle.
Get in touch with us today to sell your watch online. 
Trusted Timepieces: Our Commitment to Quality and Service